HOOKED ON A YEARLING
15 FEB 19 | NZTBA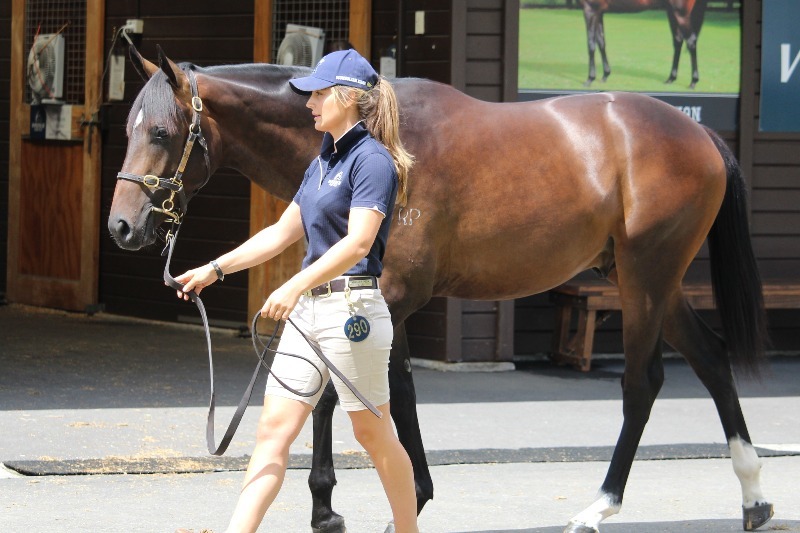 Pinhooking is a notoriously tough game but Windsor Park Stud's Yearling Manager Alice Berry is doing her best to turn it into a profitable past-time.
In 2018 English-born Berry owned a small share in a Shamexpress colt that went through the Inglis Classic Sale in Sydney, the proceeds of which allowed her to select another prospect for the 2019 New Zealand Bloodstock Yearling Sales.
Berry, who had run the Windsor Park Stud Foaling Unit for three seasons before heading the yearling crew in 2018, was unable to secure a weanling at the sales and was told of a Mongolian Khan colt that could be available for private purchase. She recognised the colt's Dam's name Penaka, and on checking back through her foaling records realised she had actually foaled the mare down.
Berry headed to Whakatane to see the colt and purchased him for $15,000 after being told to trust her instincts by Windsor Park's Co-owner and Stud Manager Rodney Schick who took half in the colt along with his wife Gina.
"When I went and saw him as a foal I couldn't really fault him. He was such a nice-looking horse and you could definitely see the potential in him," Berry explained.
"It is a combination of both (pedigree and type) that attracted me to him, we had quite a lot of Mongolian Khan's on the farm so I had an idea in my head, because they are all quite a similar type, of what I wanted."
Heading into Karaka auction Berry was reluctant to let her expectations get too high.
"I had a figure in my head between $60,000 to $80,000 in the beginning, maybe that was a bit ambitious at the time. When I first brought him I thought he would be the top end of Book Two, which I was happy about but when the catalogue came out and I was in Book One I was over the moon," Berry said.
"I tried not to have a really high expectation because I had a share in a colt last year that we took to Sydney for the Classic Sale and I kind of had a figure in my head for him and he didn't make as much as I wanted so I wasn't going to have any expectations this time. What he makes he makes, just hoping that he would make over $50,000."
The colt was catalogued as lot 290 and was knocked down to the partnership of Shaune Richie and Mr W Chan for $130,000.
The profit from the colt is going to be invested in another pinhook venture and Berry has her eye on the progeny of another Windsor Park Stallion.
"I'll start having a wander around the farm and looking at the foals now because I haven't seen them for ages. The Turn Me Loose foals are really nice, I'd be quite keen to get my hands on one of them."
"Rod's very good, he is definitely supportive and behind you all the way if it is something you want to get in to which is really cool."
Berry was hesitant to give any advice for would-be pinhookers saying she is still learning herself but encouraged others to follow two rules that had set her in good stead so far.
"You should trust your gut and the more foals and weanlings you look at the better your eye gets so keep looking at them." -NZTBA